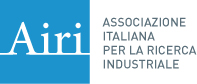 AIRI is a private, not-for profit Association, funded in 1974 to promote industrial Research and Innovation in Italy and to enhance co-operation between the private and public sector.
The Association is the focal point for about 100 members, representing private industrial enterprises, large and SMEs, active in Research & Innovation, as well as public research organizations. Researchers of AIRI members constitute about the 45% of the researchers in the Country.
In 2003, AIRI has created AIRI/Nanotec IT, a division dedicated to promote nanotechnologies and their application. A large part of the Italian players in nanotechnology is member of AIRI/Nanotec IT, which, since 2014, has extended its attention to the integration of nanotechnologies with the other Key Enabling Technologies (KETs).
To pursue its mission, AIRI, monitors scientific R&D trends and their applications, disseminates information, facilitates technology transfer and promotes Responsible Research and Innovation (RRI). International contacts and cooperation are pivotal to its activity. AIRI has a long experience in participation in co-operative European projects (FP 6, FP 7, Horizon 2020). Often as co-ordinator.
Due to its broad representative base and experience, AIRI is a key opinion leader for the National decision-makers in addressing industrial research and innovation strategies aimed to sustain the technological development of the Country, strengthen its competitive position. AIRI, periodically publish a report "Prioritary Technologies for the Italian Industry", which has become a guide for National technology planning. In 2015, together with CNR, AIRI has published a report on Responsible Research and Innovation. MIUR has embodied its indications in the National Plan for Research 2015-2020.
The organization, by AIRI, of an International Conference dedicated to nanotechnologies (NanotechItaly) dates back several years. NanotechItaly 2015 was at the 8th Edition.

Web Site: www.airi.it - www.nanotec.it