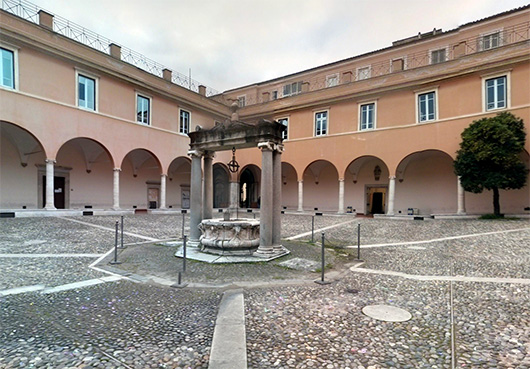 (click on the imagine to display the spherical photo on google)
NanoInnovation 2017 will be held at the Faculty of Civil and Industrial Engineering, Sapienza University of Rome, located in Via Eudossiana 18, in the historic centre of the city, directly overlooking the Coliseum and next to the ancient Basilica of San Pietro in Vincoli, home to Michelangelo's statue of Moses.

The Faculty, that develops around the Renaissance Cloister by Giuliano da Sangallo, that represents one of the most important examples of the Renaissance architecture in Rome, was founded in 1817 by Pope Pius VII, following the model of the most famous Parisian and Viennese School of Engineering of the time.
In 1935, due to the Gentile's reform, the School became the Faculty of Engineering and it developed with the aim of training professionals of high cultural background, qualified to meet the real needs of training and research company, possessing the ability to promote and to develop technological innovation processes in different cultural environments.
The ancient Faculty of Engineering has a long educational tradition which is appreciated all over the world. This rich experience has allowed the Faculty to offer a very innovative syllabus today, including also a specific program on Nanotechnology Engineering, that aims particularly at satisfying local engineering needs, yet also to prepare graduates for employment in an increasingly globalised and international job market.

Recently, a more general internal reorganization of the University required a thematic splitting of the research and teaching activity, with the consequent born of the new Faculty of Civil and Industrial.
Engineering, the headquarter of which remained in the pristine site, and of the new Faculty of Information Engineering, Informatics and Statistics.
Some educational and scientific activities are held in various buildings in the area of via Eudossiana, but also in other locations in Rome and Lazio, like the modern campuses in Latina and Rieti.

The Cloister consists of a rectangular colonnade. Each side has seven or eight arches supported by columns with beautiful ionic capitals, that show the emblem Della Rovere.

In the centre of the courtyard, there is a well with an elegant octagonal plan, sculpted by Simone Mosca and surmounted by a simple easel composed by two couples of columns supporting a simple moulding architrave, credited to Michelangelo Buonarroti. Today it is the symbol of the Faculty.
The offices of Faculty Presidency, some rooms and different Departments appear on the Cloister.
(click on the imagine to receive road indications on google)