Would you like to discuss your business idea, your research and innovation projects, your technologies with other interested and very skilled people?
The networking event is the best way to meet potential cooperation partners during the face-to-face meeting.
People have the possibility to meet each other at high speed (around 20 minutes per every face-to-face) and to share ideas and experience, to build connection, to exchange information, to evaluate new opportunities of collaboration at every level.
At the network event will participate a wide spectrum of businessmen, entrepreneurs, researchers and innovators from Europe and beyond looking for new business and cooperation opportunities: do not miss this great chance!
The networking event is free for the conference participants. The event will take place on 28th September 2017 during NanoInnovation, in the Renaissance Cloister by Sangallo at the Faculty of Civil and Industrial Engineering, Sapienza University of Rome, from the 14.00 until 19.00: choosing from the 9 slots in which have meetings, participants can both attend to the conference and to the network event.
The whole event is managed by APRE – Agency for the Promotion of European Research
Contacts: Matteo Sabini (This email address is being protected from spambots. You need JavaScript enabled to view it.), Martina Desole (This email address is being protected from spambots. You need JavaScript enabled to view it.)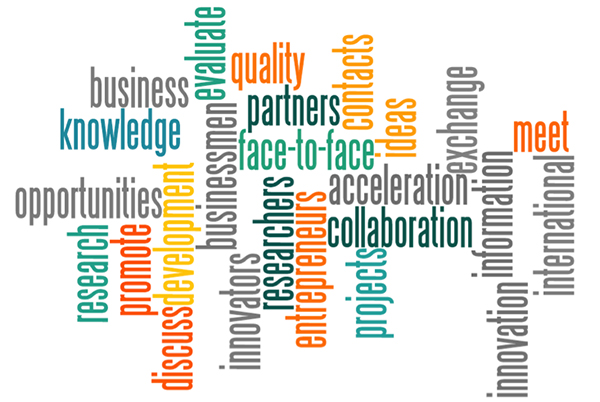 TOPICS
The network event will be focused on nanotechnologies in the following sectors:
TRANSPORT, SPACE & AERONAUTICS
FOOD AND AGRICULTURE
ENERGY & ENVIRONMENT
HEALTH AND LIFE SCIENCES/BIOTECH
SUSTAINABILITY, HEALTH AND SAFETY AND SOCIAL IMPACTS
ELECTRONICS, MICRO AND NANOSYSTEMS
NANO-MATERIALS BASED INNOVATION
NANOMETROLOGY AND NANOSCALE MEASUREMENTS
ADVANCED MANUFACTURING AND INDUSTRY 4.0
CONSUMER AND PERSONAL CARE PRODUCTS
HOW IT WORKS
Just few minutes and you will be able to participate to the network event
FIRST STEP
Insert your data, write a brief description of your organisation and your expertise
Select the networking sessions where you are available for bilateral meeting
Do not forget to choose the main areas of activity you are interested in
SECOND STEP
You will be validated by APRE within 2-3 days after registration
You will receive an invitation to select your potential partners available on the networking tool
Go to www.b2match.eu/nanoinnovation2017 log-in and book meetings with other registered participants you would like to meet during the networking event in order to discuss collaborative partnerships
THIRD STEP
Few days before the event, APRE will send your networking agenda with scheduled face to face meetings
Attend the networking event!