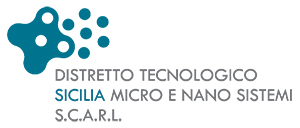 DISTRETTO TECNOLOGICO SICILIA MICRO E NANO SISTEMI
Ottava Strada, 5 – Zona Industriale
95121 Catania (CT), ITALIA
Tel. +39 095 5968261
Sito Web: www.distrettomicronano.it
Contact person: Rosanna PANE
E-mail: This email address is being protected from spambots. You need JavaScript enabled to view it.
The "Distretto Tecnologico Sicilia Micro e Nano Sistemi" is a cluster founded in August the 1st 2008 in form of limited liability consortium, based on a National agreement between the Italian Government and the Sicily Region. The "Distretto" counts on the aggregation of 22 different research and development enterprises (both private firms and public companies) that work on micro-nano technologies in the fields of Life Science, Energy, Mobility, Agricultural & Food, Environment and Security.
The "Distretto" is also part of several National Technological Cluster named by the MIUR, the Italian Ministry of Education & Research. In particular, Cluster"Alisei" focused on Life Science, Cluster "Smile" on Ambient Assisted Living, Cluster Energy, and Cluster Smart Communities.
The Consortium owns really strong competencies due to the fact that among its parties it includes several national and "global" firms dedicated to research, development and experimentation of micro-nano industrial systems.
Just to mention some of these private firms:
STMicrolectronics, IBM Italia, SIFI, ISMETT (Istituto Mediterraneo per i Trapianti e Terapie ad Alta Specializzazione), ITALTEL, Corvallis, and Engeneering.
Furthermore, referring to the National public system of research as parties of the Consortium, is important to mention: CNR, that - with about 8.000 employees - is a public organization with the duty to carry out, promote, spread, transfer and improve research activities in the main sectors of knowledge and scientific technological development and the 3 Sicilian Universities (Palermo, Catania and Messina) and its branches and departments that provides specific technical and scientific support.
Starting from 2012, and till the 2015, the District Consortium is involved in several ambitious research projects (partially funded for about 50M€ by the Italian Ministry of Education & Research) in the fields of Health & Biotechnology, Energy Efficiency, and Electronic & New Materials.