Poster contributions are warmly welcomed!

The Call for Posters is open and submission form is now available online.
Applications must be submitted online by July 15, 2018. Abstracts for poster presentations have to be prepared following the submission guideline.
Contributions should address scientific and industrial developments in application sectors relevant for nanotechnologies and their integration with KETs including:
CONSTRUCTION, BUILDING & RESTORATION
ELECTRONICS, MICRO AND NANOSYSTEMS
ENERGY & ENVIRONMENT
FOOD AND AGRICULTURE
INNOVATIVE AND SMART TEXTILES
NANO-BIO RELATED PRODUCTS
HEALTH & NANOMEDICINE
NANO-MATERIALS BASED INNOVATION
NANOSCALE CHARACTERIZATION AND MEASUREMENTS
SAFETY AND SOCIAL IMPACTS
SMART MANUFACTURING
TRANSPORT, SPACE & AERONAUTICS
Contributions will be selected by the Steering Committee on the basis of the scientific quality and of the relevance with respect to the conference themes and objectives.
A limited number of posters will be selected also for oral presentation. Authors are asked to express their availability while submitting the abstract form.
Posters will be displayed in the exhibition area through the Conference duration.
Poster presentation is subject to a fee of 100 euro + VAT, to be paid before the event. A formal invoice will be sent at the address indicated in the online poster form.
Poster display without payment confirmation will not be allowed.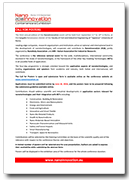 NanoInnovation_CallforPosters.pdf