Would you like to discuss your business idea, your research and innovation projects, your technologies with other interested and very skilled people?
THE NETWORKING EVENT IS YOUR GREAT CHANCE!
The collaboration between NanoInnovation and APRE- Italian Agency for the Promotion of European Research - is renewed also this year.
On the 12th and 13th of September NanoInnovation 2018 conference will offer different chances for presenting your ideas and meet potential research and business partners.
The networking event is the best way to meet potential cooperation partners during face-to-face meetings. People have the possibility to meet each other with a pre-set schedule (around 20 minutes for each meeting) for sharing ideas and experience, building connection, exchanging information, and evaluating new opportunities of collaboration at all levels.
A wide spectrum of businessmen, entrepreneurs, researchers and innovators from Europe and beyond the network event will participate at the event, looking for new business and cooperation opportunities: do not miss this great chance!
The networking event is free for the conference participants. The event will take place during NanoInnovation 2018, at Biblioteca Boaga at the Faculty of Civil and Industrial Engineering, Sapienza University of Rome on the 12th of September from 14.00 to 17.30 and on the 13th of September from 10.40 to 13.00.
The whole event is managed by APRE – Agency for the Promotion of European Research
Contacts: Matteo Sabini (This email address is being protected from spambots. You need JavaScript enabled to view it.) and Serena Borgna (This email address is being protected from spambots. You need JavaScript enabled to view it.)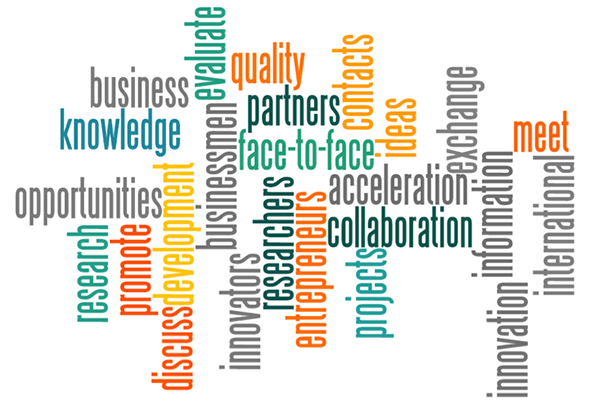 TOPICS
The network event will be focused on nanotechnologies in the following sectors:
CONSTRUCTION, BUILDING & RESTORATION
ELECTRONICS, MICRO AND NANOSYSTEMS
ENERGY & ENVIRONMENT
FOOD AND AGRICULTURE
INNOVATIVE AND SMART TEXTILES
NANO-BIO RELATED PRODUCTS
HEALTH & NANOMEDICINE
NANO-MATERIALS BASED INNOVATION
NANOSCALE CHARACTERIZATION AND MEASUREMENTS
SAFETY AND SOCIAL IMPACTS
SMART MANUFACTURING
TRANSPORT, SPACE & AERONAUTICS
HOW IT WORKS
Just few minutes and you will be able to participate to the network event
FIRST STEP
Go to https://nanoinnovation2018.b2match.io/ and click on "register"
Insert your data, write a brief description of your organisation and your expertise
Select the networking sessions where you are available for bilateral meeting
Do not forget to choose the main areas of activity you are interested in
SECOND STEP
You will be validated by APRE within 2-3 days after registration
You will receive an invitation to select your potential partners available on the networking tool
Go to https://nanoinnovation2018.b2match.io/ log-in and book meetings with other registered participants you would like to meet during the networking event in order to discuss collaborative partnerships
THIRD STEP
Few days before the event, APRE will send your networking agenda with scheduled face to face meetings
Attend the networking event!