| | | | | | | |
| --- | --- | --- | --- | --- | --- | --- |
| | | | PROGRAMME AVAILABLE for DOWNLOADING | | | |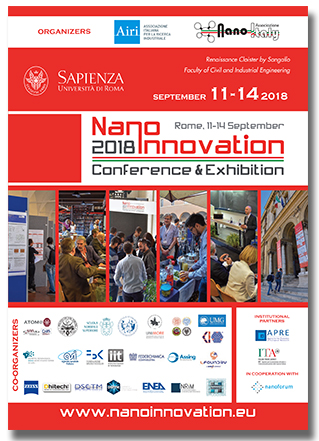 NanoInnovation 2018 is glad to announce three Plenary Sessions, scheduled on September 11!
Plenary Session I "Advances on Nanotechnology and Nanosciences" will see the presence of Mikhail Kovalchuk, President of the NRC Kurchatov Institute, with a lecture on "Nature-like Technology: The New Challenge and New Risks" and Jurgen Plitzko, Max Planck Institute of Biochemistry, with a lecture on "Advances on and perspectives of Cryo Microscopy".
Plenary Session II and III will focus on Market Strategies and Funding Opportunities.
Link:
The collaboration between NanoInnovation and APRE (Italian Agency for the Promotion of European Research) is renewed also this year with three interesting networking activities: B2B meetings, Elevator Pitch and H2020 Flash Presentations. The initiatives are totally free for all participants!
The exhibition area of NanoInnovation 2018 will see more than 23 Italian and foreign companies, that will show to all participants their own innovative products and services in the nanotech world and, at the same time,
universities and research centres will show their scientific results to the industrial world.
NanoInnovation 2018 is glad to renew "

NanoInnovation's Got Talent

" supported by Bracco Foundation and dedicated to young researchers.

The selected proposals will be invited to have an oral presentation during the special session within the conference on September 13.
Laboratorio NEST of Scuola Normale Superiore is proud to present at NanoInnovation 2018 the NEST Prize for research in nanoscience, edition 2017. Sponsorized by Rivoira, a company of PRAXAIR Group, the purpose of the NEST Prize is to promote and recognize the activity of young scientists (less than 35 years old) working in Italy on nanoscience field, represented by a submitted scientific publication in the last two years on a peer review international journal.

NEST Prize winner will be announced on September 11.