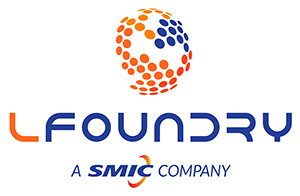 LFOUNDRY
Via Antonio Pacinotti, 7
67051 Avezzano (AQ), ITALIA
Tel. +39 0863 4231
Fax +39 0863 412763
Sito web www.lfoundry.com
Contact person: Sergio D'ALBERTO
Email: This email address is being protected from spambots. You need JavaScript enabled to view it.
From the heart of ancient Europe, LFoundry, a SMIC majority-owned company, provides innovative solutions that reach all around the world, breathing life into our customers' visions. Fully committed to finding the best solutions to satisfy every specific necessity, LFoundry creates innovation to bring our partners' projects to life. When it comes to transforming innovation into reality, this is what makes LFoundry a world-class player. Our leading and highly specialised foundry has an advanced 200mm manufacturing fab and proprietary technologies at 150 and 110 nm nodes, with MPW and MLM services available. We provide special capabilities and know-how for CMOS Image Sensors through CIS optimised processes down to 90nm, as well as Back Side Illumination technology. We also provide excellent technology support for Optoelectronics such as SiPM, SPAD, X-Ray, as well as for DBI Bonding (3D-Stacking) and Smart Power and a vast range of applications for the automotive, industrial, medical, security, science and space imaging industries. As a SMIC Company, LFoundry can leverage skills and capabilities of one of the leading semiconductor foundries in the world and the largest and most advanced foundry in mainland China. See our company video Presentation at this link
OUR PLACE
In Avezzano (AQ - Italy), LFoundry is enabling innovation worldwide. We have a continuous commitment to guaranteeing a secure environment in which our customers can realise their ideas to the highest standard, relying on LFoundry as an indispensable partner to unleash their full potential.
DEDICATED FOUNDRY AT AVEZZANO
Since 2006, Avezzano site (former Micron Technology) has been manufacturing customer imaging process technologies and products using 180nm to 90nm technologies at the 200mm, including a volume copper Back End of Line (BEOL), Back Side Illumination processes (BSI) and extensive testing capabilities. The Company provides automotive ISO-TS16949, telecom TL9000 and ISO9001 quality management system certifications as well as OHSAS 18001 certification for health and safety management system and ISO 14001 certification for environmental management system.