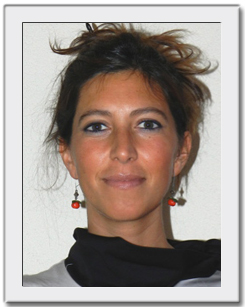 Laura SILVESTRONI
CNR-ISTEC
 Professional career:
Since 16/10/12 Permanent Researcher, CNR-ISTEC.
Visiting Researcher at:
Technische Universität Darmstadt (Germany), 2 years :

Department of Materials Science & Engineering, MS&T (Rolla, USA), 1 month

Slovenská Akadémia Vied, Institute of Inorganic Chemistry (Bratislava, Slovakia), 2 months.
Shanghai Institute of Ceramics – Chinese Academy of Sciences (Shanghai, Cina), 20 days.
Education
2009 - PhD in Industrial Chemistry (University of Bologna)
Thesis title: "Development and Characterization of non-oxide composite ceramics for thermo-mechanical and tribological applications", carried out at ISTEC-CNR (Faenza, Italy).
2005 - Master in Products, Materials, Processes for Industrial Chemistry (University of Bologna, Italy), summa cum laude.
Thesis title: Preparation and characterization of HfB2-based ultra high temperature ceramics, carried out at ISTEC-CNR (Faenza, Italy)
Working fields
Design, production and characterization of structural ceramics:
powder treatment,

ceramic shaping,

sintering,

microstructural characterization (XRD, SEM, TEM),

mechanical characterization (flexural strength, fracture toughness, Young´s modulus, hardness, nanoindentation),

oxidation behavior,  correlations among process-microstructure-thermo-mechanical properties.

Back to TS.III.A